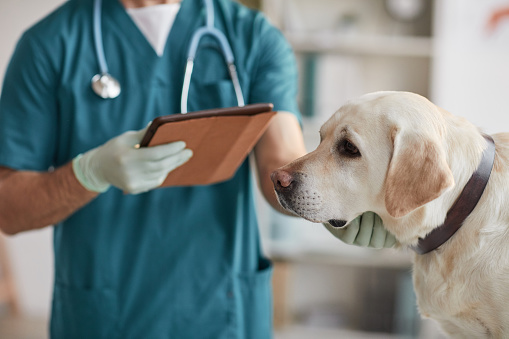 Veterinary Technologists and Technicians
Although either technicians or technologists can work in research settings, there are several factors that make it more likely these roles will be filled by technologists with a bachelor's degree. One factor in this differential is that those pursuing a bachelor's degree are already in proximity to these types of jobs simply through their enrollment at a four-year university. Another factor in the difference is training at the bachelor's level also includes deeper training in the language and skills related to academic research.
Veterinary Technician Job
Owners of pets and other animals today expect superior veterinary care. To provide this service, veterinarians use the skills of veterinary technologists and technicians, who perform many of the same duties for a veterinarian that a nurse would for a physician. Although specific job duties vary by employer, there is often little difference between the tasks carried out by technicians and technologists, despite differences in formal education and training. However, most technicians work in private clinical practice while many technologists have the option to work in more advanced research-related jobs.
www.careerprofiles.info)Veterinarians supervise veterinary technicians and technologists. They spend a lot of their time conducting diagnostic tests and treating medical problems in animals. Common laboratory tests include dental prophylaxis, blood tests, urinalysis, and other tests ordered by a veterinary. Even though most of their work is conducted in a laboratory, certain job duties are performed in other environments. These duties can include processing x rays, keeping records, and providing personalized care for animals. Certain technicians with extensive experience often meet with clients to discuss their pets' medical problems and tutor newly hired technicians. Those specializing in small animal treatment usually treat dogs, cats, and other small animals including pigs, birds, and monkeys. It is not common for veterinary technologists to care for smaller animals and bigger ones such as cattle and horses. (Source: